Measuring the fuel pressure
The pressure that is coming from the electrical pump is 6.0 bar when the fuel line between pressure regulator and fuel distributor is closed (max. system pressure ). When the line is open (normal operating mode):
engine cold: 1,5 bar
warm engine : 2,5 bar
If this pressures are incorrect you get running problems, always good to get them checked!
Axle alignement
After I have installed the new shocks and all bushes are changed its time to aligne the wheel system.
While measuring the fuel pressure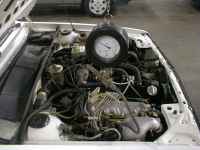 Axle alignement within the Koch workshop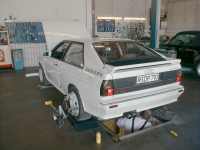 Druck der Einspritzanlage
Die elektrische Benzinpumpe bringt einen Druck von ca. 5 bar zum Mengenteiler und zum Warmlaufregler. Der Warmlaufregler reduziert der Druck (Steuerdruck) auf:
kalter Motor:
warmer Motor:
Damit wird die Bezinmenge reguliert die von den EinspritzdŁsen in Motor
auf pressure that is coming from the electrical pump is 6.0 bar when the fuel line between pressure regulator and fuel distributor is closed (max. system pressure ). When the line is open (normal operating