Bodywork:
Changed headlamps and frontgrill to `85 look
I like always liked more the newer sloped style of the `85 urq and later. I bought the front grill used for about 15$ and the glasses new from Audi for 45$. The audi rings were also new to give it a brighter look, the cost was 10$ for it. For your info, the plastic back of the `83 and later are the same and have no differences.
Wheels have been blasted and repainted, tire size increased from 215/50 to 225/50/VR 15
The wheels were not looking very good when i got the car, the paint peeled of and gave them a bad touch. For the alloy himself wasn`t damaged i decided to invest 200$ to get them like new. The tire were 11 years old in back and 9 years old in the front as the produktion year told me. Was really necessary to change them. The feeling is much better with A509 from Yokohama now. In germany were not allowed to mount every tire size we want, so it took me about several hours off telephoning to find some who gave me the need permission. Finally with the help of Dr. Koch, my audi tuner, i manged to get the tires registered in my vehicle papers. They look really great with new painted wheels, but i have to get them cleaned minimum 1 time a week.
new look with sloped headlights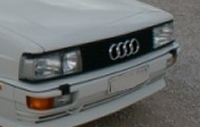 new painted wheels